Seven Things to Consider When Deciding Indoor or Outdoor
Everyone loves a beautiful and interesting reception location, and whether it's best held inside or outside will depend on many factors.
Here are the seven things to consider when deciding indoor versus outdoor.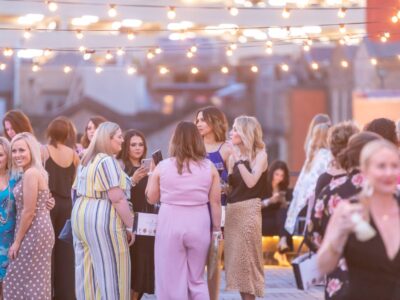 Things to Consider:
Access
Food and Beverage
Event Design and Decor
The first and foremost is of course Weather and Climate. You'd think it'd be a no-brainer, but often an outdoor venue is selected based on its 'photogenic-ness' instead of the reality of the destination's climate.
Our northern clients will often rush to be outside. However, northern summer patterns of 80-90 degrees without humidity do not equal Florida's 80-90 degrees with humidity. Florida feels more like 100 degrees when our temperature is this high.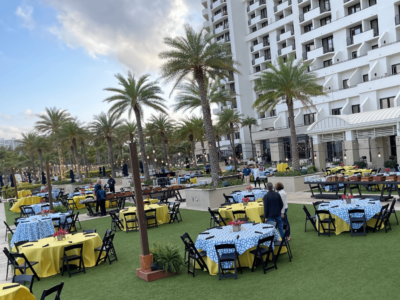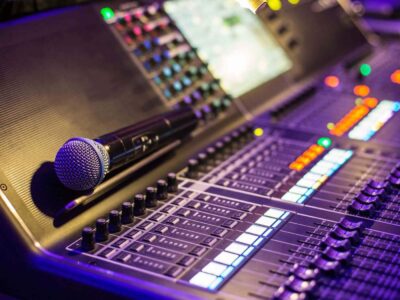 Consider also, the availability and cost of Power, Audio Visual, and Rigging. Receptions that don't require much more than a power drop can work well for outdoor locations.
However, receptions with a lot of 'tech' related elements may opt for an indoor location as there is generally adequate access to in-house power and to AV and rigging providers.
#3: Access
Be sure to evaluate Access for all your event staff, vendors, and talent/performers.
Outdoor receptions in out-of-the way locations may be challenging for staff to find, for vendors to load in and set/strike, and to mask the back-of-house elements for any performances.
On that same note, large hotels with conference space often have labyrinths of back-of-house access and loading docks that may not be conveniently located near your reception location, making in load in and strike a much longer process.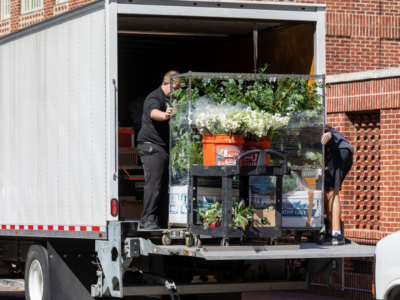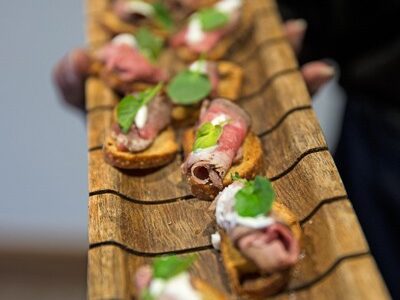 #4: Food and Beverage
Outdoor receptions occasionally present issues when it comes to Food and Beverage in terms of airborne wildlife (think seagulls, bees, pigeons, etc).
And while hotels and venues have 'staging' areas for food and beverage needs, receptions located far from the culinary centers may experience extended lag time in buffet replenishment, table bussing and/or plated service.
Gentle breezes can send napkins scattering as well. On the other hand, outdoor receptions can offer food service options not available indoors, such as barbecues or smokers, fire pit s'mores, and so on.
#5: Entertainment
When designing a reception outside, hotels have noise ordinances (normally 10pm). This helps keep the complaining to a minimum for other guests who might be at the resort on a vacation.
Plus, many hotels are surrounded by residential communities who would likely become unhappy if the battle of the bands happened every night.
In addition to noise ordinances, staging outside can be an added cost, especially if you're designing a beach event in the sand.
Sand and audio-visual equipment do not mix well. Bands often require the client to provide additional materials such as plywood for the band to roll their equipment from the sidewalk to the stage to protect their gear.
Lastly, when you book a name-act or celebrity talent, having them perform outside requires a variety of extra security to keep the entertainer safe, and to keep unwanted guests out of the private event.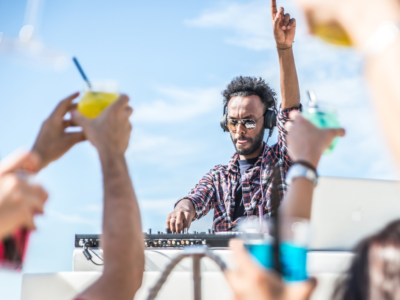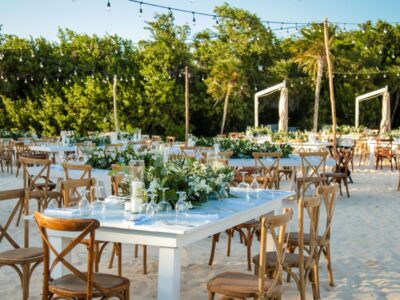 When possible, try to select indoor or outdoor spaces that lend themselves easily to the desired décor atmosphere. Think about tall centerpieces that will blow over in the wind and linen that might fly off the tables.
Also consider that your vendor partners have specific furniture and décor elements that are allowed outside to avoid damage. If you utilize a velvet couch outside and rain ruins the couch, the designer is now responsible for replacing it.
If you're looking to design the space above the reception, utilizing an indoor space often has existing rig points which can accommodate suspended décor, whereas outdoor spaces may require trusses or other rigging in order to make those overhead elements work.
#5: Staffing
Indoor spaces often are self-enclosed, defined spaces, which make entry/exit control straightforward.
Outdoor spaces lack defined walls and access points, so additional event staff may be needed to keep the event 'private' and control the entry/exit points.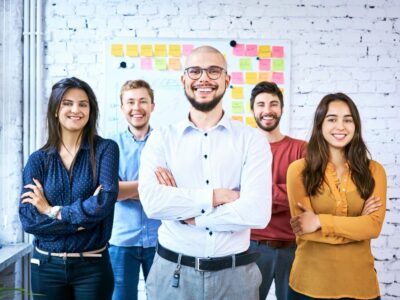 Final Thoughts
Whether you decide to design indoors or outdoors, as a team, discuss the challenges and opportunities each space presents to craft the best event design possible for your event goals.
And if you decide outdoors is the best fit, don't forget to design a back up floor plan for an indoor location should you have inclement weather!
Main Page