What is a Brand Activation Event, and Why are they Useful?
A brand activation is an event that creates lasting emotional connections between a brand and its guests. The activation is normally in person and offers interactive, memorable experiences filled with brand attributes, like colors, vibe, textures, messaging, etc.
This can be part of a product launch, a corporate conference setting, or a mobile marketing experiential event.
Here's Why they're Useful:
Drive home the brand message


Activations share and show a brand message. This is your opportunity to jump off the advertising page or web site and build something tangible that represents the brand.

Sensory experience with product or service


Brand activations can be great for launching new products or services. Who doesn't want to be the first person to touch, feel, and/or interact with a new product for a brand that you're already aware of in the market?

Establish an emotional connection with guests


Unlike advertising or social media, an in-person activation envelopes guests in brand attributes which allow them to fall in love and personally connect with the product or service.
——————
How can you incorporate brand activations into your corporate events?
——————
Product Launch Example:
We recently built a winter wonderland in the middle of October for our clients to launch their holiday collection of makeup and skincare (See more photos here!).
The event goal was to educate and energize their attendees regarding the new holiday products by creating Instagram-able photo opportunities and an experiential event for their guests. This audience relies heavily on social media to sell their products, so it was important to create beautiful settings and Instagram-able décor pieces to be the backdrop for sharing their products and messaging.
From winter snow at the entrance, to a sleigh ride photo opportunity, to branded swings and winter-themed product display, this event had all the trimmings for an amazing party and product launch focused on the company goals – to spread the cheer and sell the products.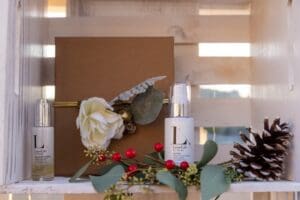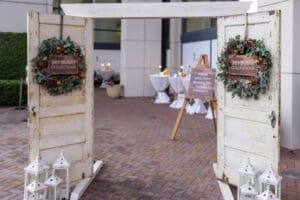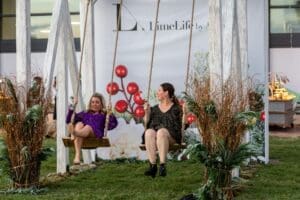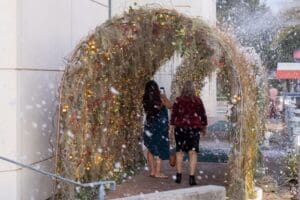 Things to consider with your team:
What is our brand's story? How can we share the history? What journey are we wanting our event guests to take?
Why should our story be important to them? Does it solve a problem? Does it offer a feeling? Does it enhance a community?
Corporate Conference Setting Example:
Brand activations in a corporate conference setting is a great way to drive home the purpose of the meeting and the company's vibe, culture, and personality.
Guests will learn more if they float through each step and interact. For example, if the guests earn a branded poker chip at each station along the journey, which can be turned in for a chance at a prize at the end, they not only are more likely to participate, but will have a deeper connection to the brand. You'd be surprised how powerful the draw is for winning a prize of practically any value.
Consider how guests are viewing the products themselves. Are they displayed in a fun and unique fashion? Or simply arranged on a basic draped hotel table? When displaying products, use merchandising displays that are on brand and showcase the products in their brand environment.
When displaying products or services, don't forget about a purpose-designed backdrop for each station. Otherwise, you end up fighting with the venue décor. For example, if your brand colors are blue and taupe, that orange wall at the venue may not be an ideal background.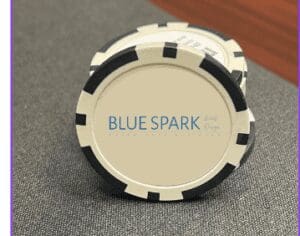 Things to consider with your team:
Are you displaying your product throughout the event spaces in ways that make it pop?
Is there a buyer journey your guests can experience firsthand? Where do they start? What's the next step?
How can each stop be unique and memorable?
Experiential Marketing Event Example:
Experiential marketing offers environments where brand attributes come alive and immerse attendees in brand attributes through color, music, texture and interaction. They often hit multiple markets around the country or the world, and bring your brand message or products directly to the consumer or buyer.
Interactivity is the key with this style of event. Let your guests touch, feel, take photos, experience and share the message any way that they can.
Here's an example of how we engaged our guests in Phoenix. We built a branded wall with a question prompt, and had guests answer the question by writing on the wall! It was a smashing success. Guests loved the interaction of writing their own contribution as well as reading the contributions of others.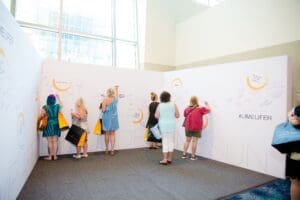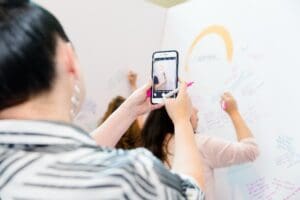 Instagram-able ideas to discuss with your team:
If your brand is sporty, then use interesting sports equipment to create that vibe near the logo. How about a wall filled with basketballs and your logo on top.
If your brand is more whimsical, add your logo to a carousel with carousel horses and ponies to sell the message.
How ever you sell the vibe of the space, your guests should feel like they're part of the brand, not simply watching it.
At Blue Spark, we've designed and created elements like custom branded swings, custom walls that guests can write on, interactive photo walls with Polaroids and clips. We've built walls with interactive monitors for messaging and designed light-box style décor for impressive brand imaging. Let us connect your guests emotionally with your brand.
Ready to get started? Fill out a 
Main Page
Current Blogs