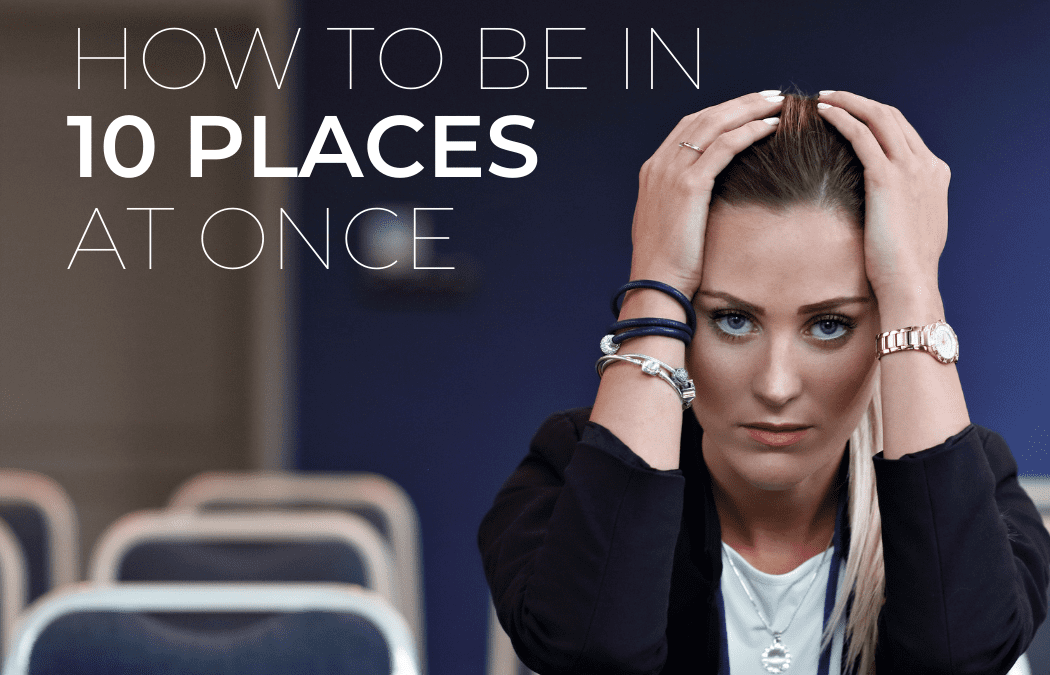 How To Be in 10 Places at Once and Manage My Conference Effectively
One of our favorite expressions is "Just because you can, doesn't mean you should". It reminds us that even though you might have the capacity to accomplish something on my own, it's not always the wisest choice to do so. When it comes to producing meetings or conferences, we find this to be extremely applicable.
Consider all the 'moving parts' that must be managed, like banquet orders, audio/visual set up and rehearsals, event staffing, vendor load in/strike, transportation, etc. We secure contracts and agreements for these areas, but that doesn't guarantee their execution will go as planned; items get forgotten, mistakes are made, people don't show up.
Add to the mix that you want to be available and accessible to your client for onsite requests or adjustments. You certainly can try to manage it all on your own, staying on top of minute-by-minute details and being pulled in ten different directions all at once. But if you want to provide the highest quality experience, ask yourself if you should?
We're strong proponents of utilizing onsite management staff with experience in general and specific meeting and conference function areas. It's an investment into the overall execution of the experience for client (and their attendees). And while budgets don't always allow for dedicated oversight of every single area, there are some key areas we believe really benefit from dedicated management staff.
Key Areas that Benefit from Dedicated Onsite Management Staff:
Food and Beverage
Transportation
Entertainment
VIP Guests
With experienced folks managing these areas, you'll be better able to stay on top of the whole program while also being available to your client.
Onsite management staff not only help improve client and attendee experiences, they also improve vendor, staff and hotel personnel experiences. Logistical challenges like vendor access and communication, reorganizing event staff for improved crowd control, verifying food and beverage deliverables, can all be handled directly by a management staffer leaving you available for broader issues affecting budget, program timeline, client deliverables, etc.
Hiring quality management staff can be a challenge if you don't have in-house personnel to pull from. In geographical regions popular for conferences and meetings, the best folks are usually booked up well in advance. You'll want to start looking for and booking as early as possible.
Check with local special event staffing agencies or local event associations for recommendations. In areas not as popular for events, options for experienced local staff are often limited. If the budget allows, consider bringing in highly experienced but non-local management staff. The cost of travel may be worthwhile in order to provide the best program experience.
Over the years, we've developed great working relationships with our professional management staff and hire them regularly for one-off and recurring events. Their cumulative knowledge and experience with our clients' programs make them our go-to onsite team, an extension of us and our expertise. It's like we can be in ten different places at once!
Need Help Being Everywhere at Once for Your Next Conference? Send us a message so we can help!


Main Page