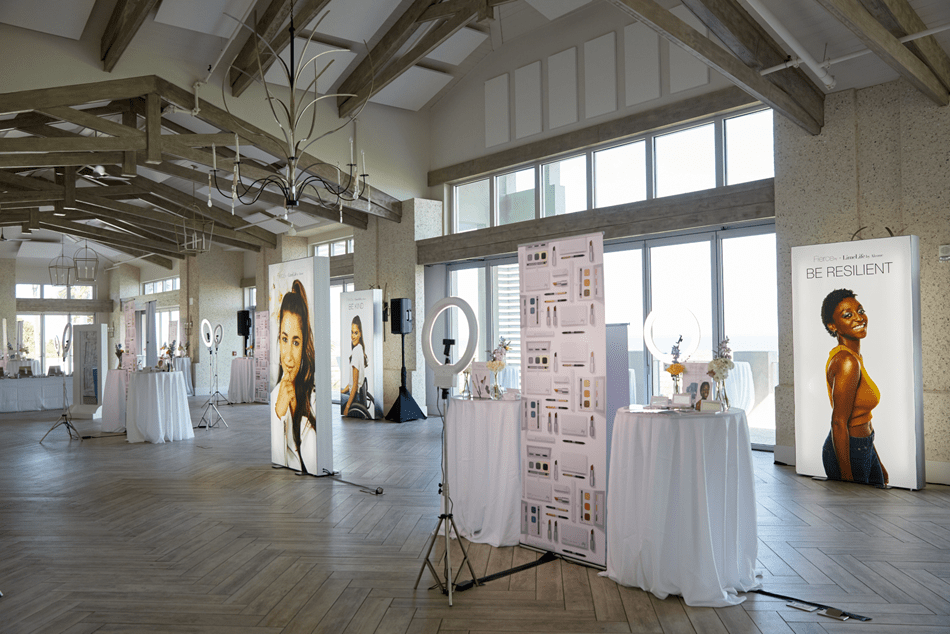 What is Corporate Event Branding and Why is it Important?
Corporate Event Branding & Signage Ideas
Corporate event branding and signage make an average event pop with eye-candy. Every sign, custom décor element or digital signage piece transforms your space into a visual representation of your brand. Creating environments that look, feel and sound like your company helps each guest connect and relate.
At Blue Spark, this is one of the design services we love providing. Creating interesting ways to incorporate our clients' branding and messaging turns into a lot of excited discussions and high-fives when we craft the perfect fit for their event.
Plus, we know every corporate event or conference has its primary goals, right? Most often these include elevating the brand or sharing a specific corporate message with the guests attending. This is what corporate event branding and kick-ass signage is all about: impactful brand messaging.
So why is branding important?
Branding is important because it tells your story and shares what your guests should expect from you as a company. It distinguishes you from the competition and quiets the noise.
Ultimately, it allows you to build a relationship with your audience that leads to loyal customers and company fans…company fans that sell your brand for you.
This is awesome! So…how can I incorporate my brand into an event design?
Here are some quick ideas to get you started. If you're ready to jump on a call with our team to flesh out your ideas, great! Fill out the form below to get started.
Here are some great ways you can easily incorporate branding into your next event:
1. Put your logo on centerpiece vessels
2. Create instagramable walls
3. Create a write-on wall to engage guests and showcase logo or messaging
4. Brand charging stations
5. Custom-build a stage set and add the corporate logo to the middle
6. Engrave rocks/shells/elements of the centerpiece to add details and branding
7. Customize cups for the afterparty
8. Add gobos of your brand or message to a wall for quick branding
9. Create oversized letters for messaging and a photo opportunity
10. Add a custom digital frame to ring-light photos or printed photos
The details added for corporate event branding opportunities bring home what the company is trying to convey. Each guest wants to feel connected to your brand and validated that they have spent their time wisely at the conference or event.
Take the extra time to build that strong emotional bond between your audience and your company and make your corporate event branding and signage budget count.
Need help with branding at your conference? Tell us about it. We'd be glad to jump on a call.


Main Page