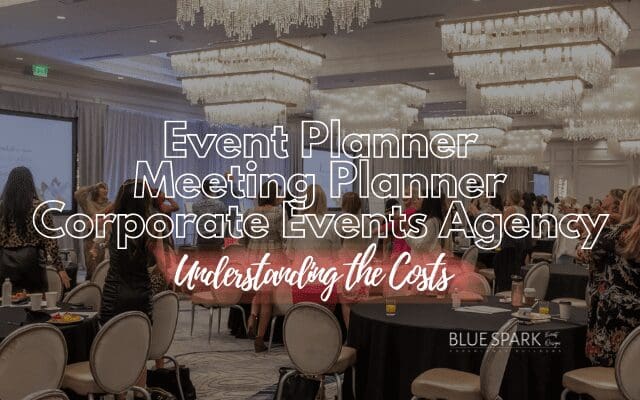 Event Planners, Meeting and Conference Planners and Corporate Events Agencies: Understanding the Cost
Defining the Terms:
There are a variety of terms that describe the professionals who organize corporate events in our industry.
"Event Planner" is an inconsistent term and is often used amongst business professionals to describe both someone who produces corporate conferences for 3,000 attendees as well as for someone who designs a baby shower for 30 people. Generally speaking, an event planner is someone who creates single-day events of any size, whether it be for social or corporate purposes. (We don't produce social events at Blue Spark. Looking for top wedding planners? Click here.)
"Meeting and Conference Planner" describes someone who produces multiple-day events or conferences, and provides services that include sourcing venues, creating a registration system, ordering and confirming food and beverage, audio-visual, etc. They partner with an internal marketing team to create a conference theme and gather content for the conference from other departments.
"Corporate Events Agencies" are external event companies that focus on the big picture of what a company is trying to accomplish with their conference or event. They have well-honed skills to produce spectacular single-day events or multi-day conferences and events that will drive home their clients' business goals. By providing a one-stop shop partnership with an internal meeting planner, executive, or administrative staff, etc., the internal business professional can focus on the content of the meeting, while the corporate events agency handles everything else.
Blue Spark Event Design is an experienced corporate events agency whose mission is to create and nurture long term partnerships with their clients to provide the best conferences and events. Learn more about our process, our clients and recognizing the value of the corporate events agency.
Understanding the Costs:
Not all planners or agencies charge for their services in the same way, so recognizing the value of the services being provided and understanding the costs involved is essential.
We leverage all our talents, resources, and coffee ☕(don't judge) to make a client's event happen. Our team's extensive years of event experience and industry knowledge, paired with our long-standing relationships with quality and dependable vendors, means you can trust us to keep your marketing messages in mind as we create an event or conference that will be a slam-dunk for your business goals.
Our fee structure is based on the value we provide to the client and is used to cover our highly skilled efforts in sourcing, procuring, designing, planning, and executing custom-crafted events.
Corporate Events Agency Fees
When we produce and/or manage hotel or venue elements that are billed directly to the client's master account, an agency fee is assessed on the total cost of those elements.
➡️For example, when we manage the food and beverage, the cost of the food and beverage is billed to the master account and the agency fee is billed to the client.
When we produce and/or manage event elements that are not provided by the hotel or venue, the agency fee is included in the pricing provided to the client.
➡️For example, the price for a ten-piece band includes our fee.
This may or may not be how other corporate events agencies price their services, and not all corporate events agencies will be the right fit for your organization. But hopefully, this provides you with an understanding of the costs for a corporate events agency and the value Blue Spark can bring to your next event.
You can learn more about our process here. If you're ready to start planning for a corporate conference, work retreat, or incentive trip, let us know and we can set up a discovery session.
We're picky about our clients; you should be picky about your corporate events agency. We hope to see you on our roster soon.
Need help bringing your business goals to life through an event? Click here to Send us the details so we can get started.
Main Page