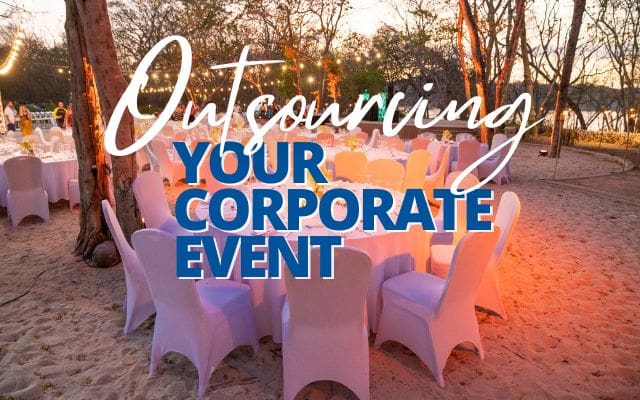 Outsourcing Your Corporate Event Might Be the Best Decision You Ever Made.
Corporate events are a great tool for incentivizing your sales team, training your employees, connecting with your clients, strategizing with your board members, building bonds between departments, levels, remote workers, etc. And crafting them takes skill and time.
Many professionals tasked with creating a conference for their company have neither the skill set nor the time to do so. That is why outsourcing your corporate event might be the best decision you ever made for both you and your organization.
Outsourcing benefits both you and your company:
Time – If meeting planning is not part of your current job description, learning, crafting, and organizing all the elements needed can be a daunting and time-intensive task.
Stress – Utilizing a professional corporate events agency alleviates the planning stress from your day, so you can focus on the goals and content of the conference. (did you know that event planning is one of the top most stressful jobs?)
Awareness – Hiring a company invested in keeping up with current, new, and exciting conference trends in the industry provides you with excellent options to create a wow at your event.
Safety – Skilled corporate events agencies are well-versed in safety and risk management. Keeping your attendees safe is more important than ever in a post-COVID world.
Return on Investment –Utilizing a corporate events agency that can deliver a goal-focused event while taking work off your current employees' plates creates a business vehicle the company can utilize for other future goals. If you've successfully energized the sales force, how about planning an incentive trip to reward them?
Want to get started with a professional corporate events agency? Fill out the form below to get started.


Main Page