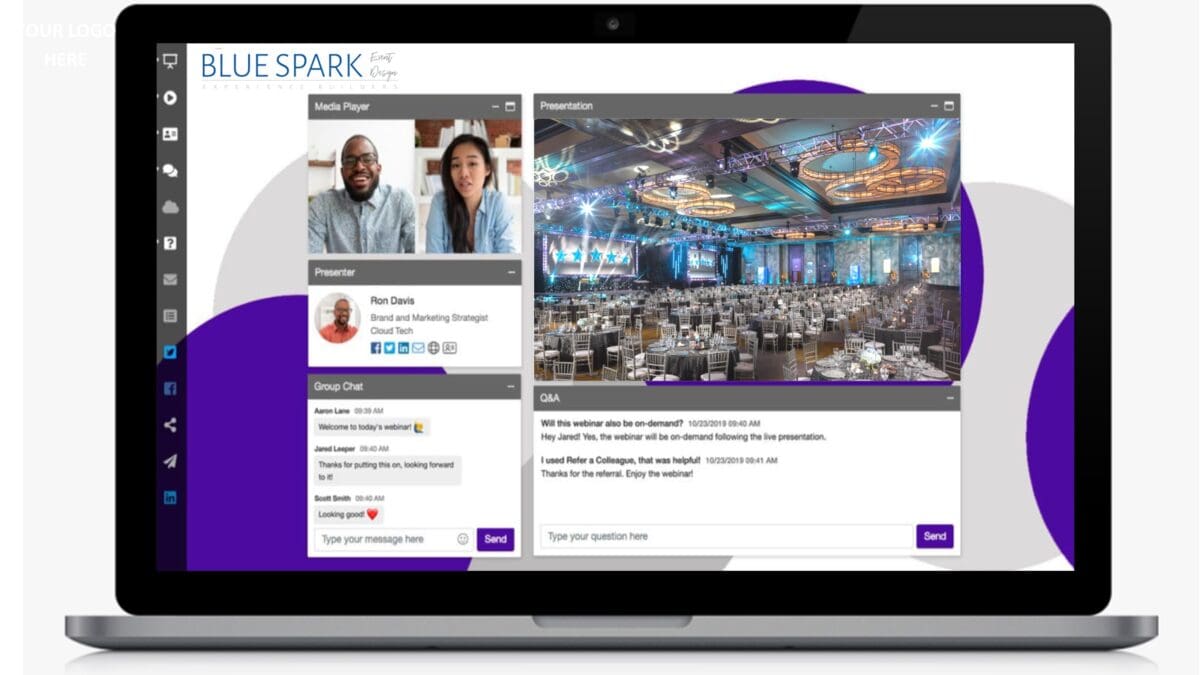 What are the Benefits of Virtual Meetings, How and Why?
With the rapidly changing landscape of meetings, conferences, trade shows, and board retreats, businesses are looking to explore virtual meetings as a resource to continue moving forward during this new pandemic landscape.
Utilizing all types of software, virtual experiences, conference calls, webinars, etc. to achieve connection across the great divide.
At Blue Spark, we recognize the need for this style of meeting and work with our clients to offer them the best possible tools to achieve their business meeting goals. Each style of virtual meeting is a little different and can be customized to create the perfect environment for the flow of ideas between attendees.
Each objective and goal is different for our clients and we always start with the end goal in mind as we navigate through the multitude of virtual options.
Let's dive into a few quick ways on the benefits of virtual meetings, how they are utilized, and best practices.
8 Top Benefits of Virtual Meetings and Events
Larger audience potential in terms of geography, number of participants
Elimination of certain expenses like F&B, facility rental/fees, printing, shipping, security
Live content instantly shareable (unedited)
Can be scheduled for when desired; not reliant on venue availability
Flexibility for sharing content over an extended period of time, instead of all at once
Instant feedback from participants can aide in customizing the direction of the meeting
Recorded content can be repurposed for other meetings
Branding opportunities are endless, and can help with costs as well as diversify content
How to Execute an Effective Virtual Event
Identify core purpose of the meeting: education, recognition, knowledge dissemination, etc.
Design what kind of experience the participant will have. Consider the following:

Design matters – must have good flow, ease of navigation, utilize color theory
Content, less might be more
Make less impactful content available on-demand, pre-record
Synchronous vs. Asynchronous, consider spreading content out over time
Design it for 24-hour access
Participants have 50% less attention span in virtual meetings than live, so keep it interesting and moving along

Equipment – must have the right equipment to broadcast, record, etc.

Video is critical, minimum of 720p, which is what most devices can handle
Audio quality must be good
Key program elements to consider:

An emcee/host to keep the meeting moving
Speakers – should be engaging, background
Agenda pacing and tempo, you can't just mimic a live-event agenda
Q&A, questions should be uploaded and prioritized with most interesting first
Platform features to consider:

Is registration included or can it be integrated
Track attendees with a virtual check-in
Accepting payments and tracking revenue
Conditional logic to ask the right questions and target the right visitors
Ability to create a customized, white label site with branded domain
Attendee profiles and directory
Real time Q&A, polling and hand raising
Chat – fosters community and can be used by moderator to gauge audience
Live website chat support – participants having trouble can connect to resolve
One-on-one interaction in groups, forums and meet-ups
Whiteboarding
Banners to identify speakers and agenda topics
Expo halls – lets vendors discuss relevant topics (not sales based)
All-in-one v. Integrated platform
Cybersecurity
Get demos to 'tour' the space, but only after choices are narrowed
Data and analytics help you improve and gauge audience reaction

Team is critical – must have a production team for any successful meeting, which include: producer, av team, tech support, back end tech support, web developer, marketing, etc.

Still a lot of moving parts and each need full attention before, during and after

Test and practice beforehand, particularly with presenters – don't leave it until day of
Best Practices to Follow
Content – no matter you what you are presenting, be sure to have content that can be linked to, downloaded and/or emailed to attendees.
Make the quality of sound/audio a key priority
Design the experience to engage folks immediately – don't spend time on background or history – get to the point
Practice! Even the little things can cause big hang ups when livestreaming
If utilizing a home environment for a presentation, review everything that can be seen in the camera lens. More colorful or distracting items will pull focus from the presenter.
Main Page