Top Four Ways to Improve Your Floor Plans
Floor plans for any event, meeting, or conference are an important communication tool. From food and beverage to décor placement, to fire marshal standards for seating, and more, knowing where to place the elements and communicating effectively while designing a floor plan is key.
Here are the top four ways to improve your floor plans
Ask the Venue or Hotel for Floor Plans that are to Scale
Do a Site Visit to Confirm any Floor Plan Changes
Measure it Yourself
Be Aware of Safety and Fire Prevention Elements
2. Do a Site Visit to Confirm Any Floor Plan Changes
After your floor plan has been preliminarily designed, visit the event or meeting space to confirm that there have not been any changes recently.
Hotels are always improving their spaces, adding furniture, updating airwalls, etc. so knowing what might be different in the space will alleviate any concerns on the event day.
3. Measure it Yourself
When you're onsite reviewing the space, measure it yourself. We often use a digital laser measurement tool (like a Bosch 100ft laser Measure) or a good ole fashioned measuring tape (like a FatMax).
We do this often for our clients to provide additional measurements for foyer space outside a ballroom or measuring soffit heights that may or may not be listed on a hotel capacity chart.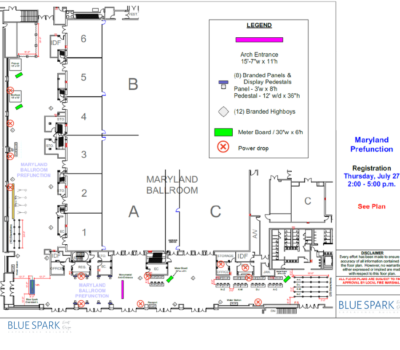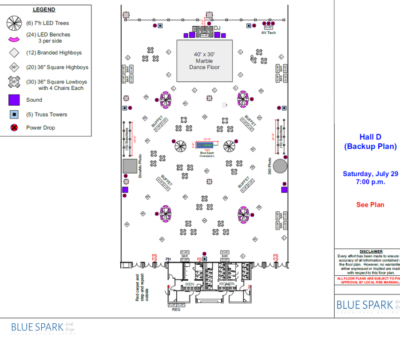 4. Be Aware of Safety and Fire Prevention
When measuring and reviewing the space for flow, keep an eye out for fire safety and prevention.
We design quite a bit of custom décor for our clients and some of those décor pieces can be tall enough to cover fire alarm systems, fire extinguisher panels, exit signs, etc.; all of which would not be approved by the fire marshal.
Being aware of where those safety elements are located in your space will help you effectively design event element placement for your event.
Tags In
Main Page