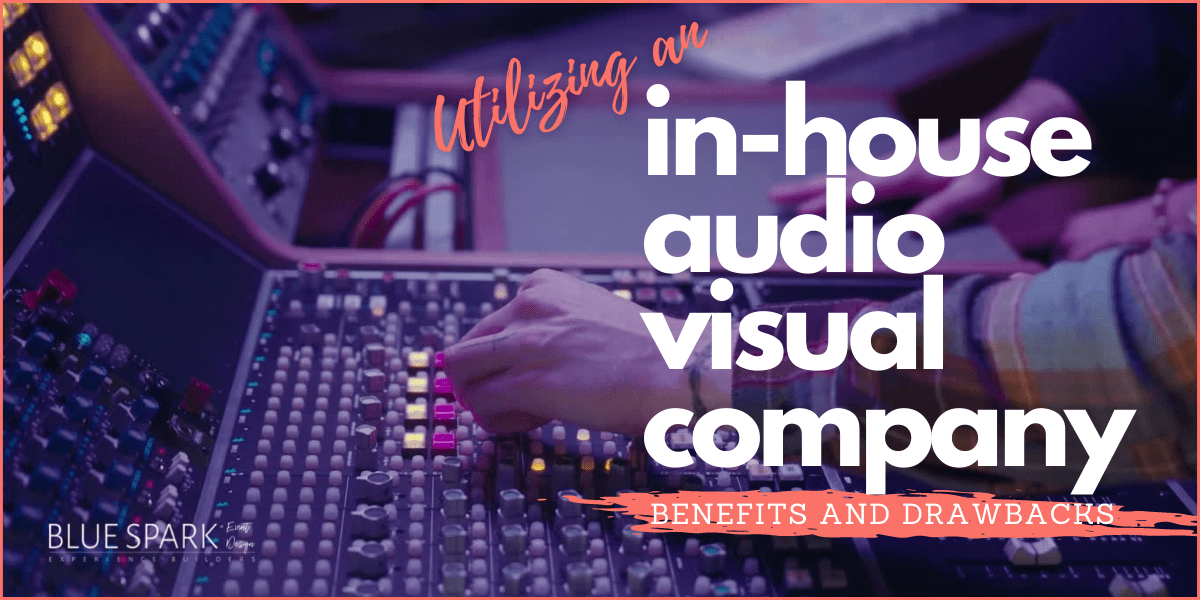 Benefits and Drawbacks of Utilizing an In-House Audio-Visual Company
When planning a conference or convention, audio visual services are normally required. It's how client's share the message of the conference, show videos, live stream information, present annual updates, provide beautiful lighting, fulfill rider requests for national talent, and much more.
Because this is such a common need, conference or convention hotels and venues provide an in-house audio-visual company as an option for their clients that has been preselected by the location.
Here are some of the benefits and drawbacks of utilizing an in-house audio-visual company as opposed to utilizing an outside audio-visual company.
Benefits of using an in-house A/V company
The technicians know the hotel well.
They can provide house sound, which is sound through built in speakers in the ceiling or walls. This can be an inexpensive option.
They normally have offices onsite at the hotel, so if you have questions, you can go speak directly to them.
If you have a last minute equipment need, they usually have a small amount of inventory on-site, often providing an immediate solution to your problem.
The audio-visual costs can be billed through the master account at the hotel, so an additional contract is not needed.
Drawbacks of using an in-house A/V company
They have a service fee that is paid to the hotel for their services, which can range from 18% to 28%, or more. This percentage is predetermined by the hotel and is added to all elements of the AV needs and labor.
If you have a conference that travels from location to location, you will get a new AV contact at each venue and need to prep them again for the show. When utilizing a traveling AV company, they will know the client, the history, and the show well.
When ordering audio-visual equipment and labor, an in-house AV company will provide a floating technician that can cover multiple events or clients at the same time. This is something to consider if you have clients who may need a little more hand holding.

For example, if your presenters are not professional speakers, they may need a technician to assist them in connecting their computer at the lectern before they begin. If your technician is floating, they may not always be available. You can alter this approach, but the floating manager seems to be standard.

In-house AV companies are a great place to start an AV career. However, because that is true, sometimes the technicians are a little green compared to counterparts at a non-in-house AV company.
Pro-tips
We suggest working with your client to figure out what is best for them. If they have an uncomplicated show, then the use of in-house AV companies can be a great solution for their needs. If you have a conference that travels, it is best to invest in an AV company that can travel with you. This way you can spend less time introducing the show to a new team each year and really refine and perfect the show year over year.
When doing site selection and negotiating contracts, we suggest that you negotiate any costs associated with utilizing outside vendors out of your contract. This way, you have the luxury of deciding what is best for your client when you start planning.
Looking for audio visual management for your conference?
Send us the details!
Main Page