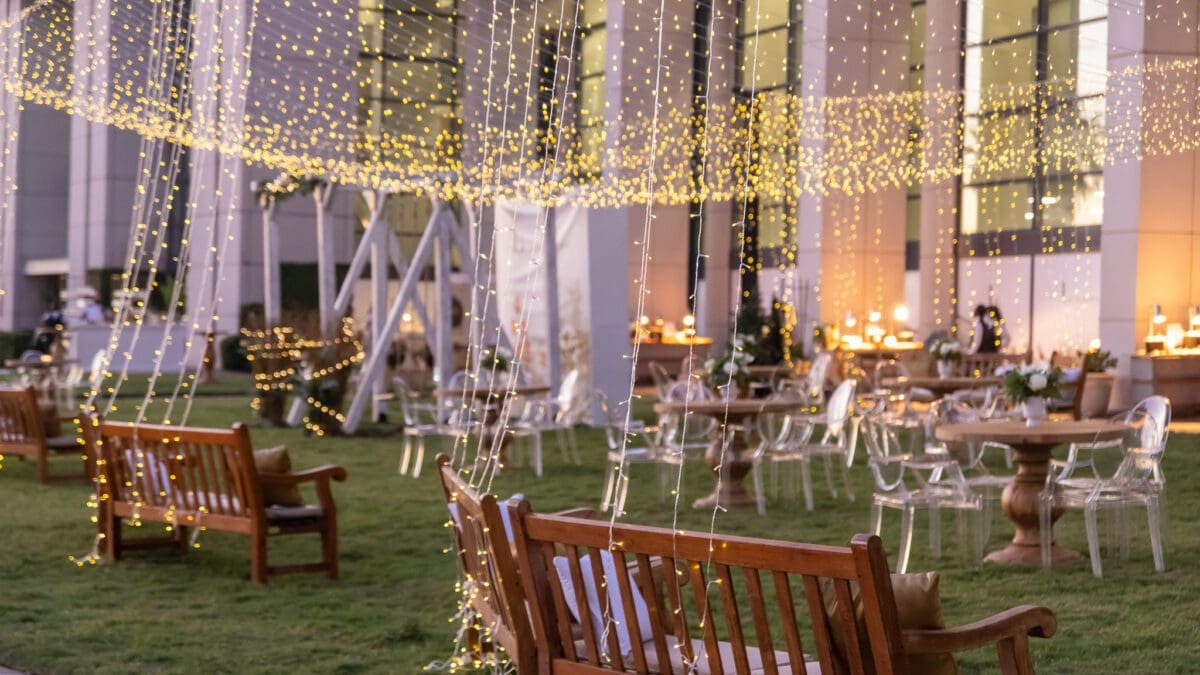 Success Story: Holiday Collection Product Launch in Savannah, Georgia
The Client
An international direct sales company focused on high-quality makeup and skincare, who's internal team was focused on management of the sales force and the overall financial responsibilities of the North American market.
Client's Event Objective
Craft a custom-designed and brand-focused holiday product launch experience for 500 guests to showcase the company's Holiday Collection held in Savannah, Georgia at the Savannah Convention Center.
Challenges
There were four big challenges for this event: size, location, intimacy, and interaction.
Finding an event venue that held 500 guests was the first challenge. Savannah doesn't have many venues that can accommodate that group size.
Creating a COVID-friendly, outdoor event. The client felt an outdoor event offered the safest option for their guests.
Creating an intimate atmosphere can be challenging in an outdoor setting, without a ceiling.
Interacting with both the brand and the products themselves was important to the success of the event.
What We Did
Sourcing the Savannah Convention Center provided both a solution to the group size and COVID-safety measures. We secured the outdoor Esplanade Lawn as our event site which easily held up to 1,000+ guests, if needed.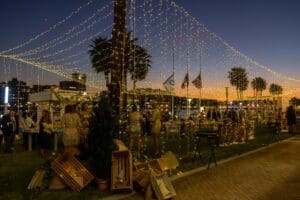 To achieve intimacy within the event area, we designed a fairy light ceiling that created a tent-like atmosphere and brought down the sky-high feeling without enclosing guests into an un-friendly COVID environment.
The brand's Holiday Collection box was the inspiration for the product launch. Boxes adorned with pinecones, small gold bells, green frosted leaves, small red holly berries, and a gold cord that wrapped a kraft-paper box, were the inspiration that our team used to design elements and interactive stations. Guests were able to envelop themselves in the brand, allowing them to better sell these products to their customers.
We designed, created, and installed a variety of interactive stations. These areas included:
custom swing set with a branded backdrop
a winter sleigh photo opportunity
an interactive gift-tag-making station
a holiday collection area that showcased the company products
a custom product-display crate wall
a custom crate holiday tree
a magical 50' long arched entrance complete with Savannah Spanish moss, pinecones, holly berries, gold bells and eucalyptus branches.
Services Provided
High Points
The Blue Spark event producing team…
Lead a discovery session with the client to determine their initial vision and direction for the event
Created an inspiration board for the client based on the discovery session
Organized a site visit to measure, photograph and walk the event space, discuss the vision with the client, and provide a food and beverage tasting with the convention center banquet department
Designed a custom menu focused on grab-and-go and COVID-friendly service
Crafted an overall budget for the client to review and approve
Drafted sketches drawn of all custom-built décor elements so the client could review the style, size, and finished design prior to being approved
Built and installed six custom-designed décor and interactive pieces
Sourced and managed event staff for interactive elements and transportation needs
Booked trolley transportation to assist guests getting to and from the event
Procured a DJ to provide holiday style music and get the crowd dancing
Plotted each element on a floor plan to ensure the proper event flow and a back-up floor plan to plan for inclement weather
Created a highly detailed installation timeline and production schedule for the event itself
Coordinated and communicated all event details with the convention center and vendors
Organized and scheduled safety officers and EMTs to protect the staff and vendors during load in, strike and during the actual event
Managed the dismantle and load-out of all décor elements
Are You Looking for Help Bringing your Product Launch to Life?
Reach out and we'll work up a custom proposal for you.
Main Page