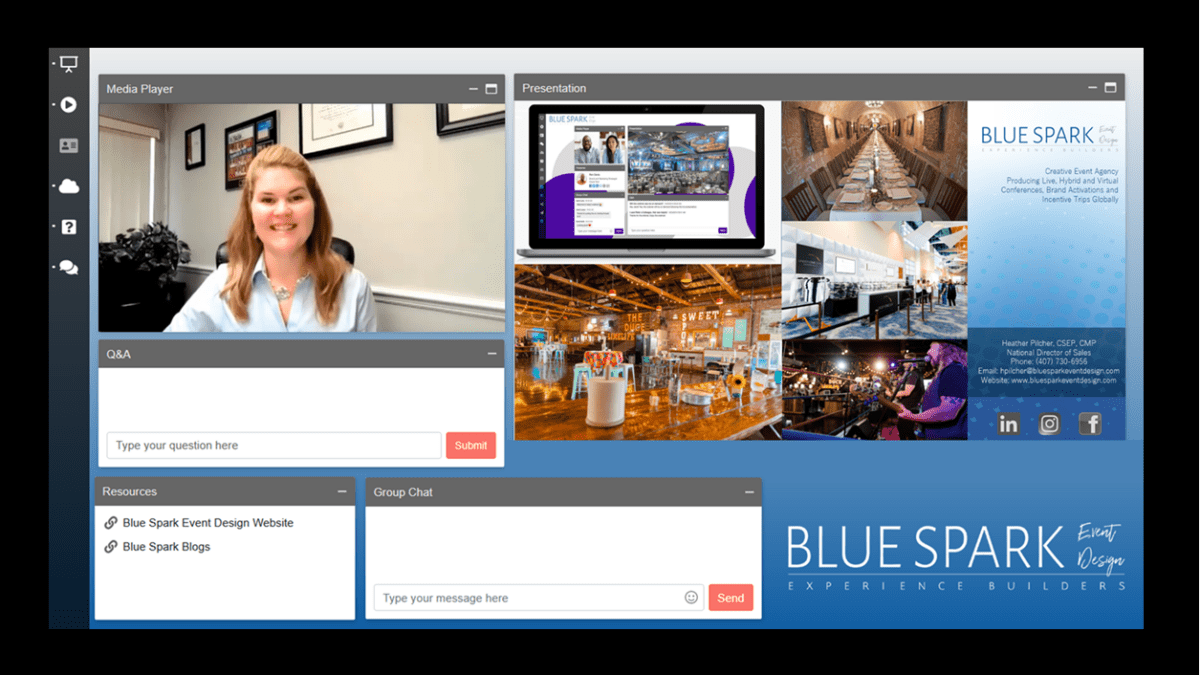 Success Story: International Virtual Conference Produced for a Retail Software Company
The Client:
Internal marketing team working on all marketing efforts for the business, including their annual conference.
Client Objective:
Secure a professional event agency to create, design and execute a four-hour continuous stream virtual conference for their annual international user conference with more than 400 attendees.
The Blue Spark Plan:
Our client wanted a professionally designed and executed virtual experience that mimicked their in-person or live user conference. It required strict control on registration and access to the conference, available only to a specified group of clients. They needed both national and international clients to be able to present within the system and they wanted to ensure attendees were able to view the entirety of the conference without having to download content or software.
High-points:
Researched and analyzed more than a dozen virtual platform options, then presented four platforms to the client based on their conference goals and priorities as well as budget

Priorities: Multiple time zone agendas, one continuous live stream, nothing downloaded, controlled access, budget limitations, chat features, questions & answers submitted to speakers, ability to record all sessions for on-demand viewing

Set up and customized both the virtual and registration platforms, while updating and monitoring both throughout the process
Organized, branded, and set up the virtual conference platform to showcase one cohesive look
Trained all speakers to utilize the virtual platform effectively, checked their lighting, sound, video and proactively fixed any VPN issues when they logged in
Provided moderator consulting and training to ensure transitions between speakers, slide development, video play and flow was consistent and professional
Conducted international speaker training outside of traditional US business hours to ensure all speakers were trained and ready for the conference day
Pre-recorded each virtual speaker prior to the conference to ensure available back-up content should they not be able to attend
Consulted on elevating production quality including lighting, sound and video components and connectivity
Reviewed in advance all PowerPoint slide decks to make sure animation in the slides worked well within the platform
Organized all content within the virtual platform for accuracy and updated as changes were made
Created a second-by-second run of show for the virtual conference including timing for videos, speaker check in times, added breaks, transitions, etc.
Produced a full-dress rehearsal the day before the event to double check transitions, video play, PowerPoint accuracy and run-of-show timing
Provided three producers the day of the event – one to call the show, which meant checking in speakers, telling them to standby, telling them to go live; one to manage content flow as elements changed; and one to monitor the Q&A and chat feeds
Provided a technical support producer to ensure ease of use for attendees should they experience any issues accessing or navigating the conference platform or have other technical questions
Provided analytics for the conference after its conclusion so the client could see how many attendees logged in, watched the sessions, etc. This included downloaded versions of all chat discussions and questions to the speaker
Created on-demand access for the conference within one-hour after the conference so any attendees who missed the conference could then log in and watch the entire conference
Client Praise:
We think our client summed up this event the best. Read below Carrie Cassidy's testimonial…
"When I needed to switch my global user conference to a virtual event, I turned to Blue Spark Event Design. They have helped me with physical events for years—venue selection, contract negotiation, and local services. Having seen their attention to detail, superior management skills, and industry knowledge in action, I knew I could rely on them to provide and manage the platform for my event. In only 60 days we went from a blank slate to an outstanding event.
"They provided a modern, user-friendly platform for our conference, which had more than 400 attendees from 15 countries. The platform was crisp, modern, and easy for clients and presenters to use. Additionally, Blue Spark produced the event on the back end. They consulted on speaker set ups, conducted one-to-one training for each presenter, scheduled (and enforced) practice schedules, developed emergency plans, and handled the event production and timing. They marshalled an international group of executives and analysts into a cohesive and enjoyable program.
"They are upbeat and professional. I had no concerns about them interacting directly with clients. In addition, the clients did not think it was strange to receive guidance and communications from a third party. They were impressed by Blue Spark's expertise and welcomed their tactful guidance. Even the company president and vice presidents responded well. (No one wants to look bad—and Blue Spark ensured that no one did.)
"The event was a tremendous success. One client even emailed me saying it was the best virtual event he ever attended. Blue Spark made my company look good to clients, and they made me look good to my executive team. Within an hour of the conference ending, my inbox was flooded with praise from staff and clients alike.
"In less than 24 hours, they sent full program analytics, a recording of the event, and PDFs of each PowerPoint. Clients wanting a replay or access to presentations got them fast!
"At every step in the process, Heather Pilcher, Meredith Fitzgerald, and Robyn Woodall were forthright. They never promised the impossible; they proposed four meeting platforms and were frank about each one's limitations. I was able to make the appropriate selection based on functionality and price. Then they helped us adapt our program to perform optimally on the platform.
"We have already begun discussing how to turn our next in-person event into a hybrid presentation. I plan to use Blue Spark's services for years to come, and I hope you will too."
The Blue Spark Event Design Difference
We worked with this client in previous years, but never in a virtual environment. She trusted us to fulfill all aspects of the conference so she and her team could focus on the important content. We brought our meeting planner perspective and event production expertise to a virtual event platform and provided a seamless virtual conference experience. It was a successfully collaborative experience between the client and our team.
Are You Looking for Help with a Virtual Event? Contact us Today.


Main Page