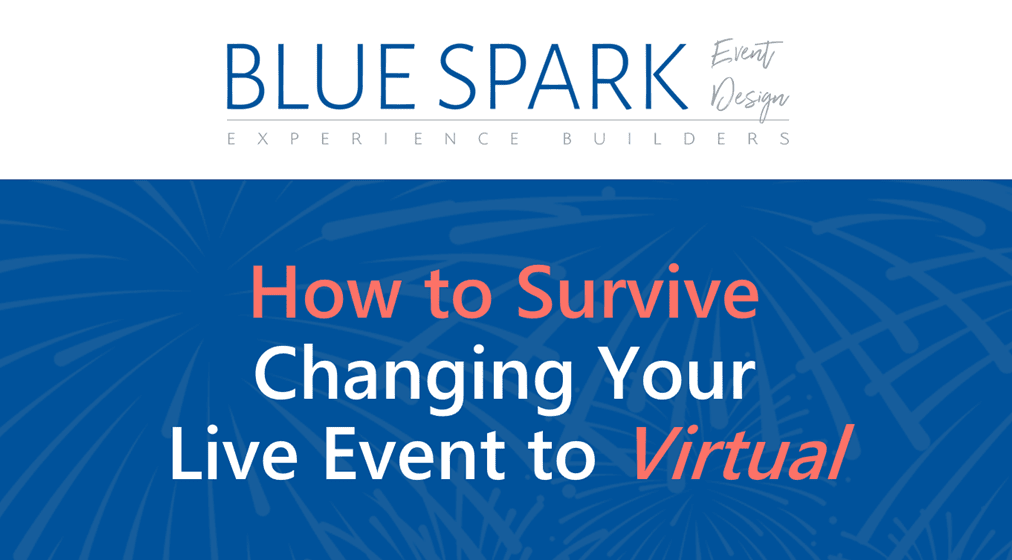 How to Survive Changing Your Live Event to Virtual
If you're desperately looking for a life raft to survive changing your live event to a virtual one, here are a few topics you should review to simplify your process. You'd think it would be easy to just to put all of your live content up on the web and invite people to watch, right? I mean…the content is still great, and your attendees all have computers at home, right? Take it from us changing from a live event to a virtual is a little more involved than that.
These mini Vlogs go through various categories to consider when going from live to virtual. Each short video offers great information about each topic so you can take charge of your meeting and deliver an amazing content-filled, value-added, engaging virtual event that your guests will be happy they attended.
We know you're busy. If you don't have time to watch, you can always go right to our presentation notes and download all the information about each option, including some suggested registration and video platforms. Click this button to get the presentation notes today.
---
CHOOSING THE RIGHT VIRTUAL PLATFORM
This video covers what type of virtual platform is necessary based on your event needs. Do your guests need to all speak and be seen during the meeting? What if you're expecting 3,000 attendees? We discuss what the different options are and what would work best for your event goals: virtual meeting vs. virtual webinar. Learn more about your options.
---
PLANNING YOUR REGISTRATION
Registration is always an involved topic, live or virtual. In this video we discuss how registration platforms can pair with video platforms, making your event more successful and your data analysis more accurate.
---
CHOOSING YOUR EVENT EQUIPMENT
Lights, cameras and sound are crucial elements when producing a virtual event. This video showcases all the equipment needed and covers topics on compatibility, connectivity, bandwidth and concurrent streaming.
---
KEEPING VIRTUAL ATTENDEES ENGAGED
You want your attendees to stay focused and engaged in the content you painstakingly prepared, right? We thought so. This video touches on the importance of engagement, why it's often hard to maintain and an array of engagement tactics including, professional emcees, polls and surveys, gamification, contests or drawings and professional entertainment. We also address pre- and post-conference engagement.
---
VIRTUAL NETWORKING OPTIONS
Connecting attendees through virtual platforms can be presented in a variety of ways. It's not as easy as walking up to another human being in a live event. In this video, we cover group chat, Q&A, networking lounges, one-to-one appointment making and matchmaking algorithms.
---
VIRTUAL EXHIBITOR AND SPONSORSHIP OPPORTUNITIES
Exhibitors and sponsors can be the lifeblood of a live or virtual meeting. For exhibitors, we cover basic exhibit booths, virtual trade shows, 3-D virtual booths, live office-hours, and other interactive elements available. For sponsorship, we cover the variety of ways to be in front of a virtual audience including a virtual lobby and banner placement options.
---
STAFFING FOR VIRTUAL EVENTS
Staffing is a key element that can easily be overlooked. Many clients assume virtual platforms do much of the work for you. Unfortunately, that's simply not the case. A skilled planner provides key insight for planning for virtual events. This video covers elements such as procuring the platform, content management, pre-production, and post-production.
---
MANAGING YOUR VIRTUAL EVENT BUDGET
Budgets are an essential element for a virtual meeting and should be reviewed throughout the planning process. This video covers elements that can affect the budget like the registration platform, streaming platform, professional content, production staff, tech support and pre- and post-production.
Click this button to get the presentation notes today.
Are you prepared to take your event virtual? We can help.


Main Page
Current Blogs