Success Story: Virtual Speaker Training for a Life Sciences Organization
The Client:
A life sciences organization with two internal team members whose daily focus consisted of overall management of the organization and membership operations.
Client Objective:
Secure a professional event agency that could a) train all of the speakers and panelists so they could successfully participate in their prestigious full-day virtual conference, and b) manage all of the speakers and panelists during the conference to ensure optimal presentation performances.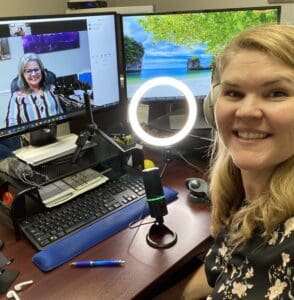 The Blue Spark Plan:
Our plan included scheduling and conducting multiple training sessions during the two weeks prior to the event so we could accommodate everyone's demanding and challenging schedules and get them sufficiently prepared.
Like many professionally produced virtual conferences, this required a higher level of speaker preparation than would be needed for live events. The client's virtual platform only allowed access to the conference through the back end, so we needed to be sure speakers could get logged in correctly and navigate within the platform to find conduct their respective sessions. Other areas of training we conducted included:
Navigating all aspects of the speaker green rooms
Utilizing session engagement features like chat and speaker Questions & Answers
Adding or removing content such as videos, PDF's, or whitepapers
Reviewing internal Zoom elements for different types of sessions (meeting v. webinar)
Assessing and consulting on speaker lighting, connectivity, sound, and video elements
Creating cheat sheets with key reminders for all speakers
In order to manage the large number of presenters at this conference, Blue Spark brought in several producers to rotate among each session, ensuring speakers were in place, equipped, and the sessions began and ended on time. Having more eyes on the program flow allowed our team to spot discrepancies and errors, and to correct them before they could impact the program.
High Points:
Scheduled and trained over eighty speakers, panelists and moderators (including government representatives, high-level doctors, university educators and more)
Secured day-of contact information for all presenters to ensure fast direct communication should any technical challenges be encountered
Consulted clients, speakers, and moderators on elevating their at-home production quality
Created a second-by-second internal conference run of show including timing for our producers to enter and exit each session, as well as timing for speaker standby
Provided live producers to manage and monitor all 24 sessions (some concurrent) prior to and during the presentation
Blue Spark producers double-checked features within the virtual conference platform as a courtesy, which led to us discover a number of discrepancies and correct them
Every speaker arrived in their correct session at the correct time
Speakers successfully utilized presentation and engagement features
All sessions began and ended on time
End Result:
The client had a trusted professional event agency that they could delegate to for additions, changes and updates
The client saved themselves over 100 hours of time, consequently allowing them to focus on recruiting and securing high-level industry speakers and COVID-related conference content
The client's concerns about speakers not being able to access or find their sessions and present was alleviated
The client was able to spend extra time on their own presentation materials
The client enjoyed attending sessions and listening to content
Client Praise:
Our client was thoroughly pleased with the entire program and celebrated our successful efforts by treating each of our producers to a bottle of champagne!
The Blue Spark Event Design Difference
Blue Spark enjoyed an existing relationship with this client but had not previously had the opportunity to work together on a virtual event. When the client needed a trusted partner to help them through this virtual event, they called us. We became a vital extension of their small internal team and were able to help make their event a success in all areas.
Are You Looking for Help with Speaker Training for a Virtual Event? Contact us Today.


Main Page