What are Hotel Receiving Fees?
Hotel receiving fees are costs billed to the corporate conference client for receiving and cataloging your packages, pallets, and other shipped materials at the conference hotel.
Here are some quick tips on how to manage them for your conference.
Tips:
Get the Rates
Know Your Stuff
Do the Math
Trust but Verify
Remember the Alamo
When it comes to conference budgeting, the big, fun, and visible program elements get priority budget lines. But it's the unexciting, invisible, and seemingly intangible items that can add up and catch you off guard. Elements not provided by the hotel – such as stage set, décor, registration materials, giveaways, brand activations, booth materials, and so on – all need to be sent to the hotel. But are you budgeting for the fees hotels charge for receiving all those items?
At a recent conference, our 50+ inbound boxes and two inbound pallets resulted in receiving fees of $4,700.00+. And don't forget about fees for returning items to your warehouse or office. Your bottom line could be in for a rude awakening if you haven't anticipated receiving fees.
The truth is, these fees don't have to be a surprise and don't have to break your budget if you estimate them appropriately ahead of time.
1. Get The Rates
Obtain a current receiving rate sheet early on from the hotel or event venue and get familiar with how they're calculated.
Typically, fees are based on shipment weight, but some hotels do it by piece, have weight minimums, etc. Be sure to also take note of any additional charges for things such as delivery to your function space, weekend/off-peak rates, cartload fees, etc.
If any leftover materials or program elements are to be sent to your warehouse or offices after the program, outbound rates should also be noted.
2. Know Your Stuff
The key to predicting receiving costs lies in estimating them once each program element has been determined.
For example, once you know you're going to send 10,000 conference programs, get estimated shipment type, weight, box count, etc. from the vendor, as well as details about the delivery method (commercial, LTL, courier, etc..)
Not all hotels have loading dock access or available forklifts, and special handling charges may be incurred at the time of delivery.
These details will be key in projecting the outbound fees for return shipping of leftover items.
3. Do The Math (We never said there wouldn't be math!)
Armed with the prevailing hotel receiving rates and shipping details for each program element, calculating the correlating receiving fees should be straightforward.
Remember, these calculations are estimates and are likely to change to some degree. But at least you'll have a solid idea of what fees to expect.
Keep in mind too that if you are bundling program elements to ship together, say on a pallet, calculating the weight of that pallet will now be even more accurate.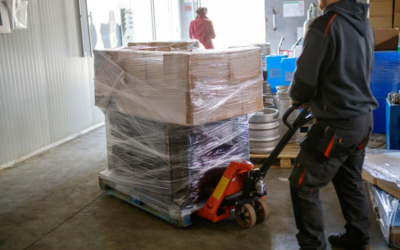 Want us to take care of this for you? It's one of the many services we offer.
Click here to fill out an RFP!
4. Trust But Verify (Thank you President Reagan for this tip!)
Before signing off on the final hotel invoice, make sure you confirm that you received everything you were supposed to and are being charged appropriately.
Discrepancies should be dealt with immediately. It's a good idea to keep a shipment manifest to cross-check on-site.
A few inbound boxes for our event were received during the program dates but were not delivered until after the program. Our final invoice included receiving fees for those boxes, and we had the hotel remove them.
Update your budget with the actual verified receiving charges.
5. Remember The Alamo (Ok, not really The Alamo 😊)
If you produce recurring events, do 'remember' and reference previous receiving fee costs.
Some of our clients do several similar events each year, so estimating their receiving is even simpler because they send similar items each time; we simply adjust for variations in taxes, service charges, rates, etc.
No matter what elements your next program involves, you can help your budget be even more accurate by anticipating and including those unexciting, invisible, and seemingly intangible items.
And the math…piece of cake!
Tags In
Main Page