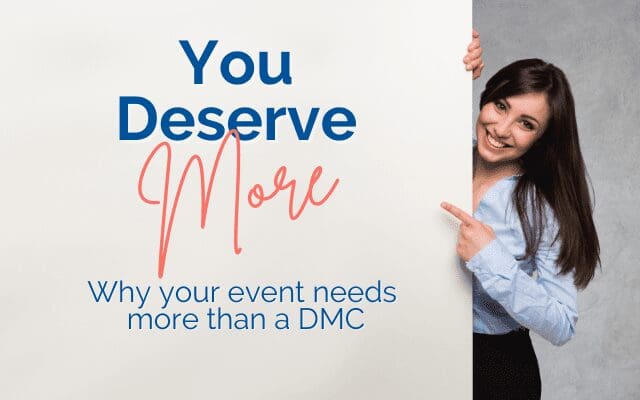 Why Your Event Needs More than a Destination Management Company (DMC)
When searching for an event company to partner with, many meeting planners utilize a traditional Destination Management Company (DMC) in the city of their convention. Utilizing a corporate event agency offering more than a traditional DMC can provide historical perspective, a single point of contact, and a high level of skill regardless of the destination. This combination of higher-level thinking, skill and consistency for the company yields successful annual programs.
Limitations of a Traditional DMC
The fundamental limitation in utilizing a traditional DMC is that they are unable to service a company's conference in multiple cities with the same quality, consistency and point of contact. Conferences that travel to different cities each year must research, procure and build trust with each new destination management company. This duplication of time and effort is exhausting and inefficient.
For example, a client might receive amazing service from a DMC in Miami, but when their conference travels to Los Angeles, they must start all over with a new DMC partner and review every program detail all over again. Destination management companies with offices in multiple cities struggle to offer consistent levels of service from each location due in large part to disparities in staffing and training.
Historical Perspective
Knowledge that a client's CEO has an aversion to humid climates, or a pineapple allergy, or loves shrimp salads, is a nuance that can only be picked up by repeatedly working with the same client.
Having a broad comprehension of where the organization started and where it is headed is a level of understanding that a traditional DMC most likely cannot offer. Being on the ground with the client in each city helps you support them in a proactive manner, rather than reactive.
Conference Strategy
Brand-focused conferences drive home a company's message, connect its guests with the direction of the organization and really 'sell' attendees on the purpose of the conference. Partnering with a full service corporate events agency that understands the higher-level thinking of your executive team and marketing direction will yield higher event success. True collaboration while designing event spaces and crafting event experiences can be laser-pointed towards the event ROI (return on investment).
Goals
If you don't know where you're going, how will you know when you get there? Goals shared between the company and its corporate events agency can elevate the conference and bring results-driven performance and a return on investment that proves the value of the conference.
These long-term partnerships translate into useful insights into the company's business dynamics, the how and why their guests enjoy absorbing content and training, and how to better connect them in the future.
Collaboration
You need a company you can trust, one that is worthy of being an extension of your team. A traditional DMC will fulfill your current needs, but for long-term goals such as relationship-building, mission-fulfillment, and actionable events, you need more than that.
A corporate events agency will invest in its relationship with you to help grow and nurture new conference and business ideas.
Company Mission
Is the company mission to increase profits? Have a smaller carbon footprint? Empower its employees? A deep dive into the company's mission leads to fully understanding why each and every event is essential to generating the desired results.
Why You Needs More than a DMC
Unengaged, traditional event experiences are a thing of the past. As a planner of events, you should focus on the why of the conference and provide carefully curated experiences that fulfill your company or event mission and appeal to your guest demographics.
Working with new DMC event partners in each city means you are recreating the wheel and taking a chance on quality, consistency, and understanding.
If you build on the experiences of the past by partnering with a corporate events agency that truly understands your company's history, strategy and goals, your event purpose will shine through. You will experience a greater level of comfort and stress-free planning experience.
Is Blue Spark Event Design a traditional Destination Management Company (DMC)?
No, we are not. Blue Spark Event Design is a corporate events agency that offers full-service conference planning. We travel with our clients wherever their event needs take them and take pride introducing our clients to the destination, instead of the destination introducing itself to the client.
Most importantly, the Blue Spark team is comprised of experienced event and meeting strategists. We focus on the why of the conference to help clients meet their goals by providing carefully curated experiences that fulfill their event mission and appeal to their guest demographics. We are big-picture aware and detailed focused.
Want to get started with a professional corporate events agency? Fill out the form below to get started.


Main Page
Current Blogs