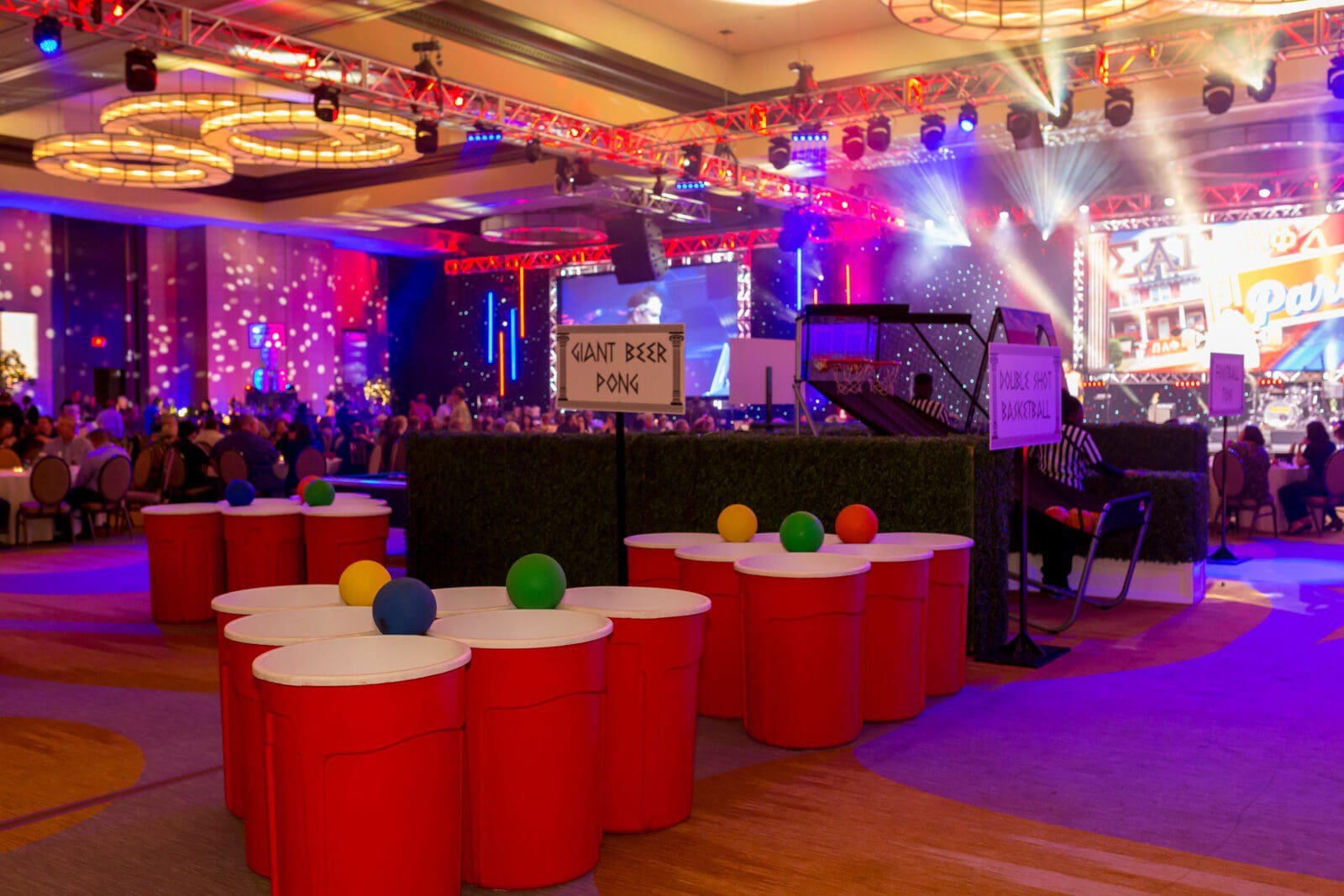 Success Story: TOGA, TOGA, TOGA! Crafting a Unique Greek and Collegiate-style Themed Party Experience
The Client:
Internal committee across all disciplines within the business. None of the committee members were meeting planners by trade.
Client Objective:
Our client asked us to create a themed party environment that felt like you were in a combination of Revenge of the Nerds and Animal House movies.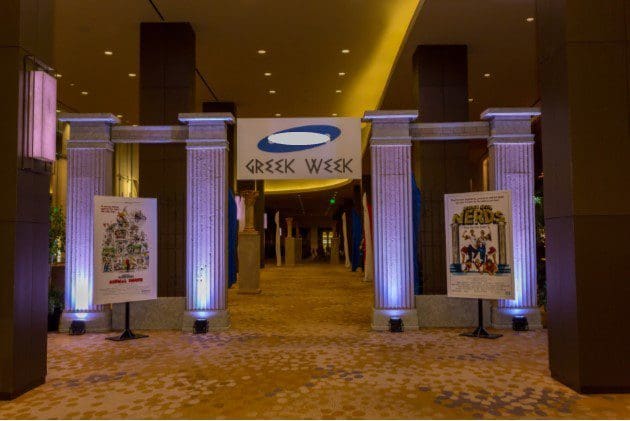 The Blue Spark Plan:
Our plan was to craft a themed environment that felt like a college campus, a toga party and Greek Week style event within a ballroom and keep all guests engaged and having fun.
High Points:
Designed a foyer that looked like a college courtyard inclusive of Greek columns, flutter flags, foliage, grass-covered boxwood walls, a fountain with benches and a grass-covered bar surround
Included interactive Greek Week games including giant beer pong, pop-a-shot, pool, can building game, corn hole, football toss, tug-a-war and a tricycle race.
Designed a ballroom that represented both the 'Jocks' Greek House and the 'Nerds' Greek House.
Created two specialty bars, one for the 'Jocks' that was a Kegger Bar crafted from beer Kegs and branded with the sponsors name, and one for the 'Nerds' created with the periodic table and the sponsors logo.
Added entertainment elements and activities to enhance the atmosphere including (2) 'Nerd' comedic characters in nerd outfits, (2) 'Jock' comedic characters in togas, Caricaturists, and a photo booth with Greek Week related green screen background.
Interactive games: Giant Beer Pong, Corn Hole, Can-building Game, Football Toss, Pool, Tug-a-war, and a Tricycle Race.
Interactive green-screen photo booths
Interactive entertainment: Caricaturists and Comedic Characters
The Blue Spark Event Design Difference
Blue Spark takes pride in creating interesting and new themed events that your guests will enjoy.  Whatever your themed idea is, Blue Spark can craft your ballroom or space into your vision.  This out-of-the-box idea created a fun and interactive event for the guests. A few guests even joined in the fun and wore their own toga. TOGA, TOGA, TOGA! Let's hear it for your Greek Week team!
Looking for Something Unique for Your Next Event? Contact Us Today.


Main Page
Current Blogs