New
How to Make a Brand-Focused Hospitality Suite
It can be distressing when your boss says, "We want to create an impressive space, full of branding and messaging that will impress clients and provide opportunities to connect with clients. Oh, and the space is 1200 sq ft."
Don't stress, we can help. Here are some quick tips to help you maximize your hospitality suite for an effective and goal-driven marketing experience.
Quick Tips
Measure the Space
Food and Beverage
Music and Entertainment
Games
Photography
#1: Design a Theme
Whether it's a Canadian style theme (like the video from above) or a summer beach theme, decide on a theme and build the marketing elements from that.
From Canadian blankets to rustic forest trees and wildlife, each corner of the space was filled with accents from the featured country.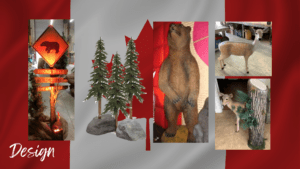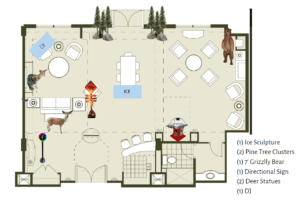 #2: Measure The Space
Every inch of that hospitality suite is usable space. Confirm what furniture stays and what the hotel might remove; measure every nook and cranny – even ceiling height.
In the video, you can see how knowing the ceiling height allowed us to utilize the oversized grizzly bear inside the space.
#3: Branding and Marketing Elements
Make sure you're facilitating your marketing goals: networking, leads, bonding, etc.
Notice the themed pillows, custom linens, signage, tabletop marketing for areas guests will gather, etc.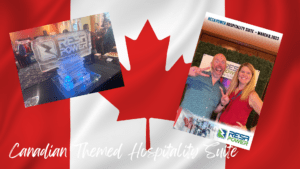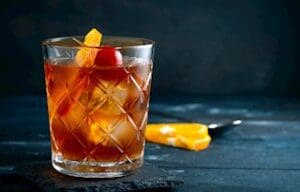 #4: Food and Beverage
Create a specialty drink for your guests that coordinates with your event theme and choose grab-and-go style food bites and place in different areas to help event flow.
This event offered an Angry Canadian welcome drink to each guest and bite-sized Canadian favorites.
#5: Music and Entertainment
Enhance your vibe through music. Anything from an elegant harp player to a hip-hop DJ could work if it helps accentuate your event goals.
Add interactive entertainment such as themed comedic characters, fortune tellers, henna artists, caricaturists, and more. These are all small foot-print entertainment that can add fun to your event.
We offered a custom Canadian artist DJ mix for the guests as they enjoyed the space.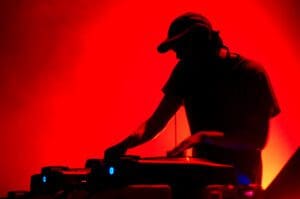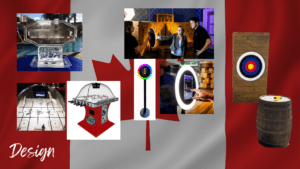 #6: Games
Hospitality suites are normally open for longer periods of time. Offering games guests will play offers both an activity and a way for guests to connect.
We provided an axe throwing activity and an air hockey game.
#7: Photography
Let's mark the occasion with a custom-branded photo booth! Guests love a good green screen that can place each guest in a specific environment.
Themed photo booths provide the guests an opportunity to take a bit of branding with them after they visit. This also consolidates all the photos in one location for the client to email directly to guests post event.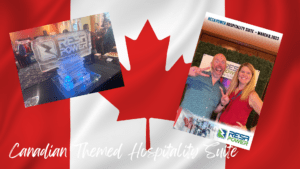 So Much Fun!
Our team had a great time designing this with the client, they even won an award for best design!
No matter what theme you choose, your hospitality suite should maximize your marketing efforts and create a not-to-be-missed experience that resonates with your guests and drives home your messaging
Main Page