Hot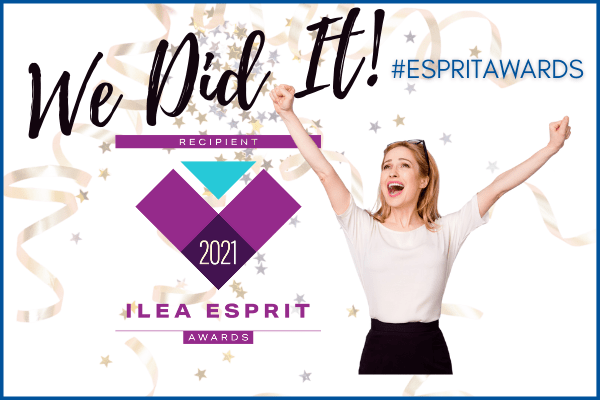 Esprit Award Winner: How We Saved a Virtual Conference by Training Eighty Virtual Speakers in Two Weeks
Our client held out pivoting her in-person annual event into a virtual event until the last minute. With only two internal team members, who had responsibilities other than meeting planning, they waited until two months prior to the event date and attempted to plan, manage, and execute the virtual event on their own. They quickly became overwhelmed with the additional planning, execution, and branding involved with a virtual event, and they literally ran out of time to train the lifeblood of the conference – their virtual speakers, and panelists.
When they called us in a panic to help them train over eighty virtual speakers, our team was ready. To accomplish the training within the timeframe given, our plan included scheduling and conducting multiple daily training sessions to accommodate the demanding and challenging schedules of the speakers and get them sufficiently prepared.
Like many professionally produced virtual conferences, this required a higher level of speaker preparation than would be needed for live events. The client's virtual platform only allowed access to through the back end, opposed to a direct link, so we needed to be sure speakers could get logged in correctly and navigate within the platform to find and conduct their respective sessions.
Within two weeks of the virtual conference launch date, our team seamlessly became an extension of the client's team to professionally complete the virtual speaker training and effectively prep everyone for the conference.
OBJECTIVES AND/OR GOALS
The client's event goal was to turn an in-person conference into a virtual one within two months. Their involvement with the content, overall strategy and deliverables of the conference did not allow them time to facilitate speaker training and accomplish a well-produced virtual conference.
The client's objective in using our company was to secure a professional event agency that could a) train all the speakers and panelists so they could successfully participate in their prestigious full-day virtual conference, and b) manage all of the speakers and panelists during the conference to ensure optimal presentation performances.
We were able to provide excellent support services for our client by handling all services related to the virtual speaker training and presentations which resulted in a professionally produced virtual conference.
THE STORY
The first hurdle our team encountered was the resistance of speakers to training on the virtual platform. Many thought the virtual conference would be a Zoom call and would only need a link to access. The client's conference platform was not Zoom and you could not just click a link to get to the presentation window. A login, password and profile were required, as well as learning where the audience chat and question and answer features were located, and how to use them, to be an effective speaker.
Once we were able to convince the speakers to attend a training session, the next hurdle was getting them scheduled. We had only had two weeks to fit everyone in prior to the conference, and these high-level life science speakers were not just busy professionals, but also Florida-based scientists attempting to solve the COVID-19 problems of the world. Getting on their schedules was tough. We dealt with many assistants, aides, speaker bureau account executives and even government-elected officials who required multiple administrative assistants to be included during the training.
The detailed areas of speaker training we conducted with each speaker, moderator or panelist included:
Confirming login and password with each speaker
Reviewing speaker profile completion
Navigating all aspects of the virtual speaker green rooms
Utilizing session engagement features like chat and speaker Questions & Answers
Adding or removing speaker content such as videos, PDF's, or whitepapers
Reviewing available platform elements for speakers based on type of sessions (meeting v. webinar)
Assessing and consulting on speaker lighting, connectivity, sound, and video elements
Verifying day-of scheduling timing and logistics
Securing day-of contact information for all presenters to ensure fast direct communication should any technical challenges be encountered
Providing a speaker cheat sheets for reference on the day of the event
We also created planning documents to help our team manage the speaker presentations the day of the virtual event. We created the following:
Virtual speaker run of show timing
1-minute and 5-minute to live indicators for speakers in the green room
Master speaker grid to keep track of who we had trained
To manage the large number of presenters on event day, we utilized several producers to rotate among each session, ensuring speakers were in place, equipped, and the sessions began and ended on time. Having more eyes on the program flow allowed our team to spot discrepancies and errors elsewhere in the platform, and to advise the client and correct them before they could impact the program.
Because our team prepared speakers, panelists, and moderators so well, the conference went swimmingly. We accomplished the following goals for our clients and supported her team in producing an amazing virtual conference:
Scheduled and trained over eighty speakers, panelists, and moderators (including government representatives, high-level physicians, university educators and more)
Secured day-of contact information for all presenters to ensure fast direct communication should any technical challenges be encountered
Consulted clients, speakers, and moderators to elevate their at-home production quality
Created an internal second-by-second conference run of show, including timing for our producers to enter and exit each session, as well as for speaker standby
Provided live producers to manage and monitor 24 sessions (some concurrent) prior to and during the presentations
Our producers double-checked all pertinent features within the virtual conference platform as a courtesy, which led to us discovering a number of discrepancies and correcting them
Every speaker arrived in their correct session at the correct time
Speakers successfully utilized presentation and engagement features
All sessions began and ended on time
EXECUTION
Execution of Production Management Process:
Internal team researched, reviewed, organized all elements of the virtual platform in order to effectively and thoroughly teach the speakers the proper techniques for their presentation
Created a master Speaker Grid to manage every step of speaker training, from contact to execution
Created Speaker and Moderator Reminders (Cheat Sheets)
Scheduled eighty speakers for training
Completed eighty trainings for speakers
Managed speaker attendance, connections, etc. on the virtual conference day
Reviewed all speaker training elements and summarized our services with the client after the event
END RESULT
The client had a trusted professional event agency that they could delegate to for additions, changes and updates
The client saved themselves over 100 hours of time, consequently allowing them to focus on recruiting and securing high-level industry speakers and COVID-related conference content
The client's concerns about speakers not being able to access or find their sessions and present was alleviated
The client was able to spend extra time on their own presentation materials
The client enjoyed attending sessions and listening to content
We are so proud to have won an Esprit Award. For more information on the ILEA 2021 Esprit Awards, click here.
Looking for an award-winning company to support your event goals? We'd love to help! Send us the details!
Main Page